MR Vol.35 - On Yorkshire Lines (70-mins) (DVD) (Released 6th.October 2014)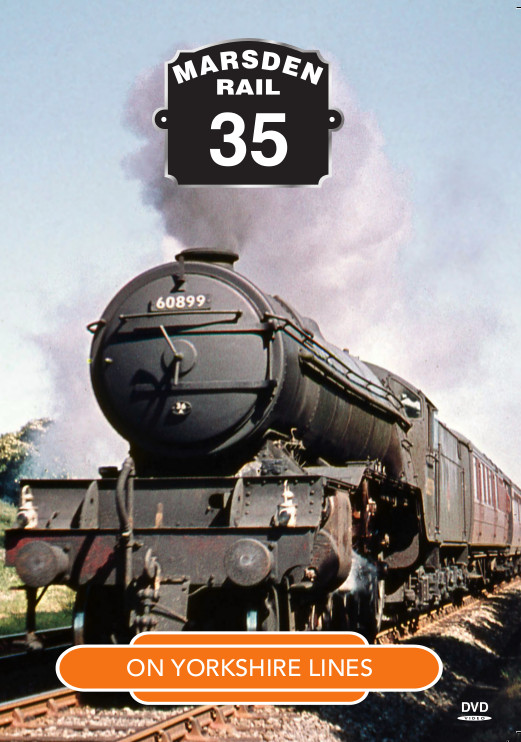 £19.96
NEW RELEASE!

DUE FOR RELEASE 6th.OCTOBER 2014. WE HAVE ORDERED PLENTY OF STOCK AND WE ARE NOW TAKING ORDERS FOR THIS NEW TITLE. DEMAND IS EXPECTED TO BE HIGH SO RESERVE YOUR COPY NOW!!
(your card will not be debited until we despatch)
The programme features Yorkshire in the 1960s, beginning with views of the East Coast Main Line in and around York, with scenes at the city's busy motive power depot and station. From York, we move to Church Fenton, the junction for routes to Leeds and Sheffield, with a focus on the now vanished Church Fenton North signal box and the traffic under its control.Next is Leeds City Station, featuring a wide variety of steam and early diesel locomotive types, plus views of Farnley Junction MPD, and at nearby Leeds Central Station, 'Deltics' on ECML services can be seen rubbing shoulders with elderly 'J5Os' on station pilot duties. Closed in 1904, Rothwell Town Station witnessed a rare influx of passengers in September 1958, with the arrival of a railtour headed by a pair of ex-GNR Class J6s. The Knostrop Sewage Works rail system with its WWI-vintage locos, plus footage of 45596 'Bahamas' leaving the Hunslet Engine Works in 1967 concludes a fascinating picture of Leeds in the 1960s.Moving to Bradford, the Quarry Gap Yard to Stanningley pick-up goods is featured in 1967, worked by one of the last Bls in service, plus rare film of a former GCR Class 04, banked by an ex-GNR N1, at Cutlers Junction in 1956. Finally, a journey on the Yeadon branch in 1961 brings to a close the visit to Bradford.Moving west, Huddersfield's trolley bus system is viewed in its last years of operation, together with views at the Standedge Tunnels, before continuing onto Penistone with Class EMI and EM2 electric locomotives still in charge of Woodhead Route services.From Penistone, we move to Barnsley's Exchange Station, still used as a diesel stabling point. New Oaks and Monkspring Junctions are also featured, along with film of Oaks Viaduct shortly before its demolition. At Roundwood, near Rotherham, the London Midland Region and Eastern Region main lines passed within 50 yards of each other and film taken in 1962 shows a wide range of motive power.We leave South Yorkshire on board the 'East Midlander Railtour' in 1962 and the next location is Skipton, with steam much in evidence, including the stone workings on the scenic Grassington Branch. Finally, we return to York, with Class J72 'Joem' working on the truncated route of the Derwent Valley Light Railway, shortly before total closure of the DVLR in 1981.
find out more

Vol.188 - Along Southern Lines Part 8 - South West to Exeter & Beyond (65-mins) (Released 9th.October 2014)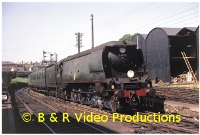 £19.75
**IN STOCK** THE VIDEO/DVD THAT HAS JUST ARRIVED AT WOLVERTON RAIL IS.... :-)
Most of the Southern's train journeys to the West commenced at Waterloo where we see a Merchant Navy pacific backing on to its train before departing. Double headed MNs depart from Weymouth followed by a Standard Class 5 at Wareham. There is Bulleid action at Seaton Jct and Barnstaple plus an N Class 2-6-0 at Okehampton.
At Bournemouth Central we see S&DJR 2-8-0s, Bulleid pacifics, Standard Class 5s and Ivatt class 2 tanks. Adding to this variety blue A4 "Sir Nigel Gresley" is on a rail tour racing through the New Forest. Scenes at Brockenhurst feature both Standard tender and tank engines. A Channel Island Bulleid hauled boat train hurries through Beaulieu Road. More Bulleid Pacifics are seen at Southampton Central and Eastleigh with one rushing through Shawford in wintery conditions. Some excellent shots of Bulleids and Standard class 4 4-6-0s at Battledown Flyover are followed by footage at Basingstoke with Bulleids roaring through and departing.
Along the Salisbury line we stop at Andover for some nice Bulleid action, as well as an S15 and a Standard class 5 plus a GWR Manor, Hall and an S&D 2-8-0 on enthusiasts specials. At Salisbury we are just in time to see the crack Atlantic Coast Express arrive. More Bulleid pacifics along with an N Class mogul. A USA tank has the melancholy task of shunting lines of withdrawn engines. Passing Salisbury shed, and Templecombe we reach Yeovil Junction to see a Maunsell King Arthur, an M7 on a push-pull and a Merchant Navy.
Next a trip to Yeovil Town on a Western auto train before returning to the Junction for more Bulleid action. After passing through Crewkerne and Chard, where a pair of S15s are seen, we arrive at Axminster. We travel the Lyme Regis branch, first behind the legendary 0415 tanks and then by two Ivatt class 2 tanks on the LCGB East Devon Railtour. Next to Seaton Junction for a trip to Seaton behind an M7 tank before returning to the Junction to see S15's, Pacifics and a 64XX pannier . Onwards to Sidmouth for M7, Standard Class 3 and an Ivatt class 2 plus Pannier hauled special train to Exmouth. We travel past Exmouth Junction Shed where an A4 is being serviced and arrive at Exeter Central for the ACE. A W tank is seen amongst the usual motive power.
Finally we traverse the steep gradient down towards Exeter St Davids to see two West Countries departing, then to Cowley Bridge for the Southern's Withered Arm with some nice shots of N class 2-6-0s at Eggesford, Halwill Jct. and Braunton plus an Ivatt tank at Instow.
All the archive film is in colour apart from a few sequences in black & white.. An authentic soundtrack has been added along with a researched commentary.
Cover Photo:- Keith Pirt/Courtesy Book Law Publications, 34078 "22 Squadron" enters Exeter Central. 1963.
All text is © Wolverton Rail (a trading name of ADVANCE MICRO COMPUTERS LTD.)
find out more

Cab Ride GBRF62: Peterborough to Felixstowe Port North Terminal (170-mins)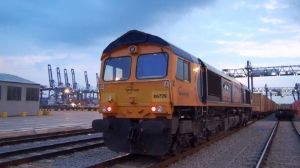 £25.99
A cab ride journey aboard a Class 66 loco of GBRf from Peterborough via Bacon Factory Curve at Ipswich to Felixstowe Port North Rail Terminal, including the Loco Traverser passing through Spital Jn, Crescent Jn, Fletton Road Jn, Whittlesea, March, Manea, Ely West Jn, Ely North Jn, Ely, Ely Dock Jn, Soham Jn, Chippenham Jn, Kennett, Bury St Edmunds, Thurston, Elmswell, Haughley Jn, Stowmarket, Needham Market, Europa Jn, Bacon Factory Curve, Boss Hall Jn, Westerfield, Derby Road, Trimley, Felixstowe Port North Rail Terminal Jn & Locomotive Traverser before terminating at Felixstowe Port North Terminal.
find out more
Cab Ride NR64: Manchester Piccadilly to Buxton & Return (106-mins)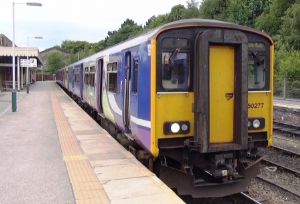 £21.98
A cab-ride journey aboard a Class 150 (2 car unit) of Northern Rail from Manchester Piccadilly to Buxton & return calling at or passing through Levenshulme, Heaton Chapel, Stockport, Davenport, Woodsmoor, Hazel Grove, Middlewood, Disley, New Mills Newtown, Furness Vale, Whaley Bridge, Chapel-En-Le-Frith & Dove Holes terminating at Buxton. We then take the return journey.
find out more

Cab Ride GBRF58: Ironbridge Power Station to Edge Hill (Liverpool) (164-mins)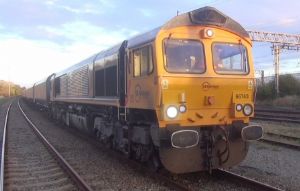 £25.99
A cab ride journey aboard a Class 66 loco of GBRf from Ironbridge Power Station to Edge Hill (Liverpool) passing through Madeley Jn, Shifnal, Cosford, Albrighton,Codsall, Bilbrook, Oxley (Stafford Road) Jn,Bushbury (Oxley) Jn, Bushbury Jn, Penkridge, Stafford South Jn, Stafford, Stafford North Jn,Norton Bridge South Jn, Basford Hall Jn, Crewe Sorting Sidings, Winsford South Jn,Winsford, Hartford, Acton Bridge,Weaver Jns, Acton Grange Jns,Warrington South Jn, Warrington Bank Quay Winwick Jn. Earlestown South Jn, Earlestown, Earlestown West Jn, St Helens Junction, Lea Green,Rainhill, Whiston, Huyton, Broad Green & Wavertree Technology Park before terminating at Tuebrook Sidings at Edge Hill (Liverpool).
find out more

Vol.187 - Scottish Railways Remembered Part 6 (60-mins) (Released 28th.August 2014)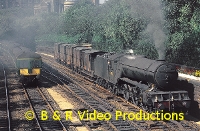 £19.75
In this sixth part of our series, we cover the lines around the Scottish Lowlands, the Borders area and the South West.
We begin with steam and diesel activity at Edinburgh Waverley including a visit to St.Margaret's Shed.North of the Border, regular Easter features were the "Scottish Rambler" rail tours. In 1963 these were jointly organised by the Stephenson Locomotive Society and Branch Line Society. It gave an opportunity to travel over branch lines that had lost their passenger service years earlier. On Easter Sunday, 14th.April 1963, we visit Reston to Duns, Tweedmouth to Wooler and the Coldstream, Roxburgh, Jedburgh and Greenlaw lines.
Two strategic routes that are sadly no longer with us were the Waverley Route from Edinburgh to Carlisle and the Port Road from Dumfries to Stranraer. We feature footage along both lines.
Also included are the branches to Lockerbie, Kirkcudbright, Whithorn and Garlieston. In the middle of the Galloway Moors we visit the lonely passing place of Loch Skerrow with no road access and the impressive "Big Water of Fleet" viaduct.
Coal traffic was thriving around Newton-on-Ayre and we also visit the NCB steam operated system at Waterside.
All the archive film used is mainly in colour and was filmed between 1963 and 1966. Motive power seen varies from ex-Caledonian and ex-North British types through to BR Standards. We even include the last ever passenger working with a Caley "Jumbo"0-6-0!
A detailed commentary and authentic sound track completes a nostalgic look at the railways of Southern Scotland.
Cover photo: Keith Pirt/Courtesy Booklaw Publications. V2 2-6-2 No.60882 passes Princes Street Gardens, Edinburgh in 1962.
All text is © Wolverton Rail (a trading name of ADVANCE MICRO COMPUTERS LTD.)
find out more