TGV Italy France - Turin to Chambery (123-mins)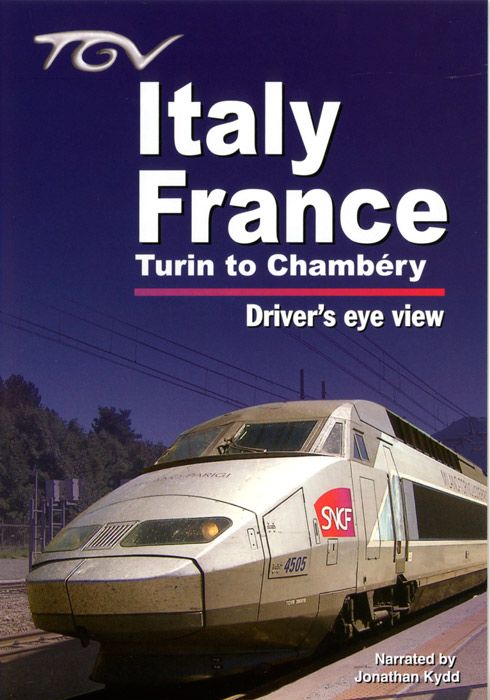 £20.00
This is a Driver's eye view filmed on board an international train service, TGV 9244 travelling from Milan to Paris through the Alps.
We board the TGV, 90 minutes into its journey at the brand new station of Turin Porta Susa, for a spectacular ride through the Alpine scenery. On-board cameras show the view of the road and the driver working with the Italian SCMT train speed control system.The climb towards the Alpine backdrop is relentless, starting gently at first but then increasing to as steep as 1 in 33, close to the maximum for conventional adhesion based railway vehicles.The summit is reached inside the 8 1/2 mile long Fréjus tunnel, the first through the Alps opened in 1871 at the time the longest tunnel in the world! With tunnel lighting, we can actually see it as the driver does. Once in France we continue with the Italian crew and Italian signalling until we reach Modane. Now the French crew takes over and we descend, at a similar rate to the climb, towards Chambery in South East France. En route we learn of France's worst ever train disaster and see where 700 soldiers perished on board a runaway train.This feat of incredible engineering, coupled with the spectacular Alpine scenery, is a journey not to be missed.Commentary is also available in Italian, French and German on this disc and is selected at the beginning from the menu. There is even the option of no commentary at all - just the sounds of the TGV Réseau.Filmed in the summer of 2015.
find out more

Manchester to Cleethorpes (120-mins) (Released June 2016)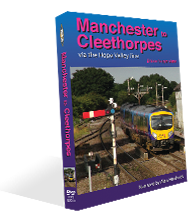 £20.00
**NOT YET AVAILABLE**
The Hope Valley line seen from a class 185 DMU from Manchester Piccadilly on one of the hourly Transpenninexpress services to Cleethorpes, running via Stockport and the scenic Hope Valley route over the Pennines to Sheffield. From Sheffield the landscape changes from one of hills and heavy industry to the rural flatlands of North Lincolnshire.One of the highlights of this journey of contrasts, is the much photographed array of semaphore signals at Wrawby Junction, viewed from the Driver's cab just weeks before abolition. Threading our way through the back streets of Grimsby Town on a single line, we finish our journey at the popular seaside town of Cleethorpes.Filmed in the summer of 2015.
find out more

Cab Ride GBRF96: Pengam Reception Sidings to Neath Abbey Wharf then returning to Cardiff (152-mins)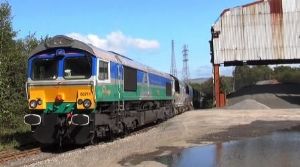 £25.99
A cab-ride journey from Pengam Reception Sidings Newport (Gwent) to Neath Abbey Wharf & Swansea Burrows Sidings, before returning to Cardiff aboard a Class 66 loco of GBRF.
We pass through Pengam Jcn, Long Dyke Jcn, Newtown West Jcn, Cardiff East Jcn, Cardiff Central, Cardiff West Jcn, Leckwith Loop North Jcn, Miskin, Pontyclun, Llanharan, Pencoed, Tremains, Barry Jcn, Bridgend, Llynfi Jcn, Stormy, Pyle, Margam Moors Jcn, Margam Moors West Jcn, Port Talbot East Jcn, Port Talbot Parkway, Baglan, Briton Ferry East Jcn, Briton Ferry, Court Sart Jcn & Dynevor Jcn, reversing into Neath Abbey Wharf. Jersey Marine Jcn South & Swansea Burrows Sidings (for run-around), Jersey Maine Jcn South, Dyneover Jcn, Court Sart Jcn, Briton Ferry, Briton Ferry Up Flying Loop Jcn,Briton Ferry East Jcn, Baglan, Port Talbot Parkway, Pyle, Bridgend, Pencoed, Llanharan, Pontyclun, Leckwith Loop North Junction & Cardiff West Jcn before terminating at Cardiff Central Station (Up Main). Disk 1: Pengam Sidings to Neath Abbey Wharf Disc 2: Neath Abbey Wharf to Cardiff
find out more
Vol.202 - Great Western Steam Miscellany No.2 (80-mins) (Released April 2016)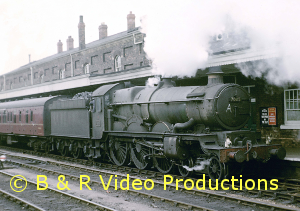 £19.75
**IN STOCK 9th.April 2016** THE VIDEO/DVD THAT HAS JUST ARRIVED AT WOLVERTON RAIL IS.... :-)
The second of our "Miscellany" series to cover Great Western Steam. This time we mostly use previously unseen film from the Jim Clemens Collection. Once again the footage has been assembled in the order the film runs off the original cine reels and features wide coverage across much of the old GWR Empire.
A veritable feast of all that ex-GW steam which includes the branch from Oxford to Witney and Fairford, the "Great Western" high speed special on 9th.May 1964 from Paddington to Plymouth and back, a shed visit to Exmouth Junction, Gloucester (Horton Road), Worcester and Stourbridge. We feature the route of the "Cathederals Express" from Hereford via Malvern, Worcester, Evesham, Honeybourne, Campden Bank, Kingham, Oxford, Didcot and Reading to Paddington.
Onwards and we witness the last steam from Swansea to Milford Haven and Fishguard in September 1965, Dowlais Cae Harris and Dowlais Top, Savernake Low Level to Radstock West via Holt Junction in 1959, Three Cocks Junction and the Mid-Wales line, Kingham to Cheltenham via Stow-on-the-Wold, Chipping Norton, the Bromyard branch, Shepton Mallett High Street, the Helston Branch, Malmesbury, Highworth and Faringdon branches, the Ditton Priors branch and finally Stourbridge Junction to Wolverhampton Low Level.
A huge variety of ex-GWR steam locomotives is seen ranging from all types of 4-6-0s (Kings, Castles, Counties, Halls, Granges and Manors), 28xx, 43xx, 2251, 72xx, 45xx, 41xx, 61xx, 66xx, 57xx, 94xx, 16xx, 14xx and even a very brief glimpse of a condensing pannier tank! BR Standards put in an appearance as does the odd Warship diesel hydraulic.
There is something for everyone and a Great Western delight for all GW enthusiasts!
The archive film is in both colour and Black & White and was mostly filmed in the 1950s and 1960s. An authentic sound track has been added along with a commentary to complement this further nostalgic look at the last years of GWR steam.
Cover photo:- Mike Clemens Castle 4-6-0 No.7005 "Sir Edward Elgar" at Worcester in 1963.
All text is © Wolverton Rail (a trading name of ADVANCE MICRO COMPUTERS LTD.) and may contain trackable codes.
find out more

Cab Ride GBRF95: Swindon to Newport (Gwent) & Celsa Sidings (127-mins)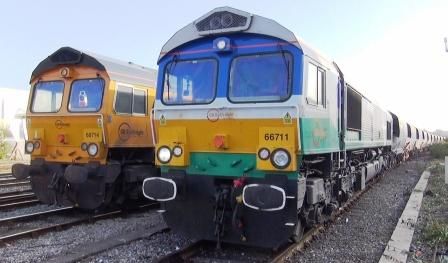 £22.00
A cab-ride journey from Swindon (Down Goods Loop) to Newport (Gwent) & Celsa Sidings aboard a Class 66 loco of GBRF passing through Swindon, Swindon Jcn, Wootton Bassett Jcn,Wootton Bassett West, Alderton Tunnel, Chipping Sodbury Tunnel, Westerleigh Jcn, Stoke Gifford East Jcn, Bristol Parkway, Stoke Gifford West Jcn, Stoke Gifford Jcn No 2, Patchway Jcn No 2, Patchway, Patchway Old Tunnel, Pilning, Ableton Lane Jcn, Abelton Lane Tunnel, Severn Tunnel, Severn Tunnel Junction, Severn Tunnel Jcn West, Magor, East Usk Jcn, Maindee East Jcn, Maindee West Jcn, Newport, Newport Old Tunnel, Alexandra Dock Jcn, Rumney River Bridge Jcn & Pengam Reception Sidings, then light engine via Pengam Jcn and Cardiff Tidal Sidings for re-fueling at Celsa Rail Operations before reversing to Pengam Reception Sidings.
find out more

Video Trackside: Barnetby 1987 to 1999 (60-mins)
£12.95
A Guided tour of the lines through Barnetby with a profile of Freight Operations from 1987 to 1999.
The programme comprises:Class 20s, 31s, 47s and 37s in the period 1987 to 1989 on a wide variety of traffic including Iron Ore to Scunthorpe, Oil and Engineering duties.Barnetby in 1992 with the transition from first generation motive power.Barnetby in 1998 before the arrival of the Class 66 fleet.Barnetby in 1999 with all the main locations on the line from Wrawby Junction to Brocklesby and Ulceby Junction.A wide variety of traffic is featured, from Enterprise workings to MGR and Iron Ore with Class 56, 60 and 66 power.
find out more