175 Years of The Great Western (90-mins)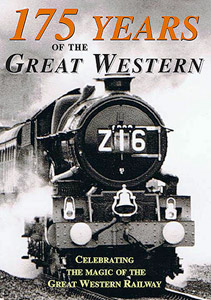 £12.95
A celebration of the Great Western Railway with men who actually worked for the GWR from the 1930s through to the 1960s.
We delve into the history of the company and its foundations starting with Isambard Kingdom Brunel. The STEAM museum of the GWR at Swindon is the backdrop to our look at four men who worked for the company. Several in their 90s now, they describe their working lives on the railway. We hear from David Maidment of his days as a career railwayman starting at Old Oak Common depot, moving to the various regions of the west country and Wales.We see how the GWR lives on in the preservation movement of the 21st century starting with the Great Western Society and its base at Didcot.Full of archive film from every corner of the Great Western.* 1930s in Devon* Laira Depot in the 1950s* Castles at Paddington in the 1950s* GWR promotional films* Survey of GWS at Didcot* Indepth look at STEAM, Swindon
find out more

Vol.188 - Along Southern Lines Part 8 (60-mins) (Released 25th.September 2014)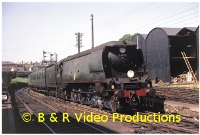 £19.75
DUE MID/LATE SEPTEMBER. WE ARE NOW TAKING ORDERS FOR THIS NEW TITLE. RESERVE YOUR COPY NOW!! (your card will not be debited until we despatch)

Description to be inserted as soon as I've created the cover!
All text is © Wolverton Rail (a trading name of ADVANCE MICRO COMPUTERS LTD.)
find out more

Vol.187 - Scottish Railways Remembered Part 6 (60-mins) (Released 28th.August 2014)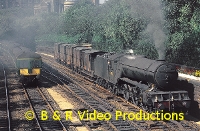 £19.75
**IN STOCK** THE VIDEO/DVD THAT HAS JUST ARRIVED AT WOLVERTON RAIL IS.... :-)
In this sixth part of our series, we cover the lines around the Scottish Lowlands, the Borders area and the South West.We begin with steam and diesel activity at Edinburgh Waverley including a visit to St.Margaret's Shed.North of the Border, regular Easter features were the "Scottish Rambler" rail tours. In 1963 these were jointly organised by the Stephenson Locomotive Society and Branch Line Society. It gave an opportunity to travel over branch lines that had lost their passenger service years earlier. On Easter Sunday, 14th.April 1963, we visit Reston to Duns, Tweedmouth to Wooler and the Coldstream, Roxburgh, Jedburgh and Greenlaw lines.
Two strategic routes that are sadly no longer with us were the Waverley Route from Edinburgh to Carlisle and the Port Road from Dumfries to Stranraer. We feature footage along both lines.
Also included are the branches to Lockerbie, Kirkcudbright, Whithorn and Garlieston. In the middle of the Galloway Moors we visit the lonely passing place of Loch Skerrow with no road access and the impressive "Big Water of Fleet" viaduct.
Coal traffic was thriving around Newton-on-Ayre and we also visit the NCB steam operated system at Waterside.
All the archive film used is mainly in colour and was filmed between 1963 and 1966. Motive power seen varies from ex-Caledonian and ex-North British types through to BR Standards. We even include the last ever passenger working with a Caley "Jumbo"0-6-0!
A detailed commentary and authentic sound track completes a nostalgic look at the railways of Southern Scotland.
Cover photo: Keith Pirt/Courtesy Booklaw Publications. V2 2-6-2 No.60882 passes Princes Street Gardens, Edinburgh in 1962.
All text is © Wolverton Rail (a trading name of ADVANCE MICRO COMPUTERS LTD.)
find out more
Routermasters in the Park (76-mins) ()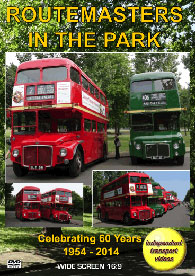 £17.00
The AEC Routemaster bus must be one of the most recognisable icons in the world. Although development began in the late 1940's it was not until 1954 that the first prototype, RM1 (SLT 56) was revealed to the public at the Commercial Motor Show at Earls Court on 24th September 1954. After extensive trials it entered public service on the 8th February 1956 from Cricklewood Garage. Three further prototypes followed, before production commenced. A total of 2,876 Routemasters were built, numerically the last Routemaster built for London Transport was RML2760 (SMK 760F) in early 1968.
So, 60 years on a celebration was held at Finsbury Park in north London over the weekend of the 12th and 13th July 2014. The independent transport videos cameras were on hand to record the event on both days. Filming starts early on Saturday morning as we record some of the Routemasters that stayed overnight as well as a good number of Routemasters arriving to form the main display. There is plenty of action for you to see as the buses take up their places. Notable arrivals are obviously the star of the show, RM1 (SLT 56), green RM2 (SLT 57) which has recently been restored to its original condition proudly displaying its original style bonnet and radiator grill, and Leyland engined RML3 (SLT 58). We also see the one and only rear engined Routemaster, FRM1 (KGY 4D). Other historic buses in attendance includes 'B' type B2737 (LH 8186) and DLA1 (R101 GNW) in Arriva training bus livery, being the first low floor bus in London, an Alexander ALX400 bodied DAF. Our cameras now move out of the park to Seven Sisters Road to sample two rides by Routemaster on free service X60, the first on RML2344 (CUV 344C) and the second on board RCL2226 (CUV 226C). These rides complete our filming of the first day.Sunday morning filming commences early as the Routemasters arrive to take up their positions. Even more examples arrive together with historic buses in the shape of STL2377 (EGO 426), RT113 (FXT 288), RT2177 (KGU 106), L2 (A102 SYE) and 'New Routemaster' LT60 (LTZ 1060). At midday we recorded the 'Buses from the Decades Parade', and later in the day the 'Parade of significant Routemasters', all from different locations. In all, a comprehensive record of the day for you to enjoy. Our thanks must also go to the Routemaster Association for putting on this excellent event.
find out more

Routermasters in Southern England (57-mins) ()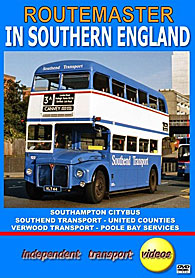 £17.00
An archive video presentation of the iconic AEC Routemaster bus running in service with three major operators, and two independents in southern England. The video was shot by transport photographer Malcolm King in the late 1980's and features the Routemasters running in service with Southampton CityBus, Southend Transport, United Counties, and independents, Verwood Transport and Poole Bay Services.
The programme starts in Southampton. A city well used to the AEC product as they had only just said goodbye to their last open platform AEC Regent V in 1981, having said that it would often return to traffic at peak time, and is seen on this programme making such an appearance! It was May 1987 that the Routemaster commenced operation in Southampton on a new service, the 16 between the city centre and the Millbrook Estate. The initial fleet of Routemasters consisted of 12 vehicles and were painted in Southampton red with an off white waist band and large 'CityBus' fleetnames as well as route 'branding' in yellow and black on all available advertising locations being carried on numbers 402-407. Two further services commenced in August with Routemasters, these being the 17A and 23. Numbers 408-413 carried smaller fleetnames and when a further six arrived, 414-419, they were in an overall red livery, also with small fleetnames. Malcolm filmed them in action both in and out of the city, also capturing the contemporary buses of the day from Solent Blueline, Hampshire Bus, Provincial as well as Leyland Atlanteans in the CityBus fleet.Our second location on this programme is Southend. Having hired and borrowed Routemasters in the mid 1980's it was not until 1988 that Southend Transport decided to purchase its own Routemasters. Services commenced in September 1988 and over their time with the undertaking they covered a number of services, namely the 1, 3A, 7, 9A, 29 and 63. A fleet of 12 were operated in a smart livery of Southend blue, off white with a blue and red stripe. Malcolm visited Southend and captured them operating from the busy town centre bus station and out to the suburbs. We also see other Southend Transport vehicles in action alongside Eastern National ones.The final 'large' operator on this programme is United Counties. The first examples took to the streets of Bedford in February 1988 on service 101. They appeared in the 'deregulation' livery of 'Tilling' green with cream and orange diagonal and horizontal stripe, and were branded as 'Routemaster'. They also appeared on the 161 route again in Bedford and the 1, 2A, 2C and 4 in Corby. Malcolm caught them in action for you to enjoy.Our final visit is to Poole on the south coast, where we briefly see both Verwood Transport and a 'hired in' Routemaster with Poole Bay Services, in action.So take your seat and enjoy this nostalgic video presentation featuring the iconic Routemaster running in service many miles away for its natural home in London!
find out more