Cab Ride GBRF65: Harwich International to North Walsham (132-mins)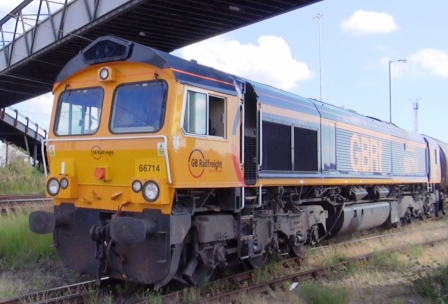 £22.00
A cab ride journey aboard a Class 66 loco of GBRf from Harwich International (Up Sidings) to North Walsham (British Pipeline Agency) passing through Wrabness, Mistley, Manningtree East Jcn, Manningtree North Jcn, Halifax Jcn, Ipswich, East Suffolk Jcn, Europa Jcn, Needham Market, Stowmarket, Haughley Jcn, Diss, Trowse Jcn, Trowse Swing Bridge, Crown Point Depot Jcn, Wensum Jcn, Whitlingham Jcn, Salhouse, Hoveton & Wroxham & Worstead before terminating at British Pipe-Line Sidings at North Walsham.
find out more

Cab Ride GBRF64: Wansford on the Nene Valley Line to Peterborough & Whitemoor Yard (March) (94-mins)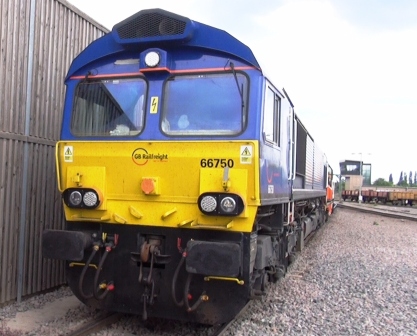 £22.00
A cab ride journey aboard a Class 66 loco of GBRf from Wansford on the Nene Valley Line to New England Sidings in Peterborough then to Whitemoor Yard at March passing through Ferry Meadows, Orton Mere, Longueville Jcn, Fletton Branch Line, Fletton Jcn, Crescent Jcn, Peterborough, Spital Jcn,Eastfield Signal Box, Arrival & Departure New England Sidings then reversing to Eastfield Signal Box, Spital Jcn, Peterborough, Crescent Jcn, Fletton Road Jcn, Whittlesea, March West Jcn & March Whitemoor Jcn, before terminating at Whitemoor Yard.
find out more

Vol.192 - Turkish Delight Part 2 (75-mins) (Released March 2015)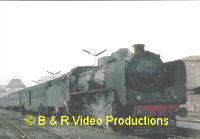 £19.75
Turkey is a country with a landscape full of dramatic contrasts from the largely flat western side in Europe to the rugged, mountainous eastern side in Asia separated by the Bosphorus waterway. To cope with this challenging environment, the railways used simple but powerful steam locomotives and continued to do so until the late 1980s. Turkey was one of the last countries in the world to use steam traction and it became a mecca for steam enthusiasts.
In Part 1, we visited the Asiatic side around Izmir and the Black Sea coast around Zonguldak before moving east to the Euphrates Gorge and then south to Konya.In this Part 2, we revisit the Zonguldak area and the Burdur system before returning to Izmir and then continue along the Konya and Afyon line. We visit several of the lines in the Afyon area before revisiting the Burdur system and return to Izmir from Denizli.
Although the named express trains were usually diesel hauled, most of the country was steam worked using a variety of steam engines of many different types. Here we see both main line and secondary line, passenger, freight and mixed trains hauled by a mixture of 2-10-2s, 2-10-0s, 0-10-0s, 2-8-2s, 2-8-0s and 0-8-0s passing through some dramatic scenery and weather.
There are double-headed and banked (even some double banked) trains. Prussian, German and USA built locomotives abound. We see some British Stanier 8F "Churchill" 2-8-0s working trains plus a brief glimpse of a steam crane on shunting duties!. In addition to the main and secondary lines footage there are some steam shed scenes. There is even footage of a rail-across-rail level crossing!
An absolutely fascinating record of the last years of steam traction in Turkey!
This all colour film has been brought to life with superb sound and commentary. Many archive films are now available and an up-to-date catalogue may be obtained from the address below.
Cover photo:- Colin White. 57009 arrives at Basmane from Kars and leaves on the 11am to Soma, 13/12/75.
All text is © Wolverton Rail (a trading name of ADVANCE MICRO COMPUTERS LTD.)
find out more
Docklands Light Railway: Riding High in London - Part 1 (145-mins) (DVD-R) (16:9 Widescreen)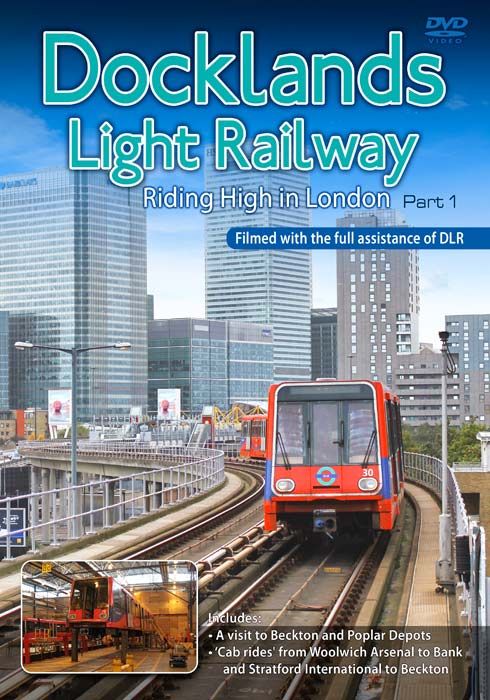 £16.96
City commuters on board automatic driverless trains, running in underground tunnels or on elevated railways high over the city streets. This was once thought to be the future of transport in a modern world and this future arrived in London in 1987 with the opening of Docklands Light Railway.
Twenty seven years later the DLR has become one of the most successful and well-used modern light rail systems in the world, carrying a staggering 101 million passengers in 2013/2014!Extended on numerous occasions, today the railway serves five principal terminals over 23 route miles and operates 149 trains, built between 1991 and 2010.Filmed with the full permission and assistance of DLR, this programme offers unlimited access to the railway with footage recorded at Beckton and Poplar depots, showing the trains stabled and on maintenance.This is followed by 'cab rides' from Woolwich Arsenal to Bank and from Stratford International to Beckton. With maps, internal views, numerous run-pasts and fleet details, this title – the first of two – offers a unique insight to the DLR of the 21st Century.Also available in blu-ray format
find out more

Exeter to Basingstoke (131-mins) (Released Easter 2015) (DVD)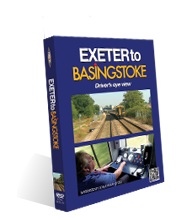 £20.00
The West of England line was the Southern Railway's arterial route to the West Country and as such was at one time very busy with express trains to Salisbury, Exeter and Plymouth. It was also the route of the ACE, the Atlantic Coast Express which ran from Waterloo all the way to Padstow on the North Cornish coast.
Run down and rationalised in the 1960s, the West of England line became a mere shadow of its former self. Today, with privatisation, train services and passenger numbers are on the up and we can see the line from the cab of a class 159 DMU, in its recently resignalled form along with recent redoubled sections of line to improve capacity and flexibility. As well as the ride in the cab, we also see inside the signal boxes. Filmed in the summer of 2014 in association with the South West Trains, Network Rail alliance. (Also available on Bluray)
find out more

Riding the DCR Route Learner #1 - Bo'ness to Aberdeen (145-mins) (DVD-R) (16:9 Widescreen)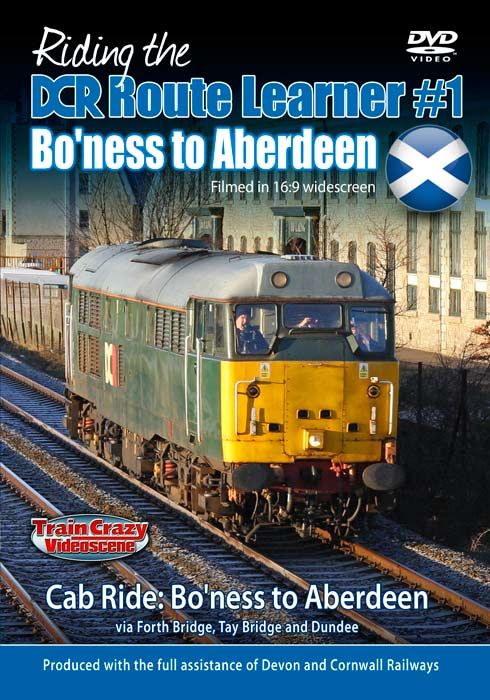 £14.95
In December 2014, Class 31, No.31601 embarked on an epic journey. Starting at Derby on Christmas Eve, the loco ran to York, along the ECML to Edinburgh and onto Bo'ness where it stabled, duly taking part in the Bo'ness and Kinneil railway diesel gala four days later.
At 08.30 on Sunday 28th December, the loco departed on a special route-learning journey heading north over the Forth Bridge and onto Dundee, Aberdeen and across to Inverness. The following day it travelled south along the Highland Mainline to Perth and continued all the way to Carlisle. The next day it returned to Derby, completing more than 1000 miles!In their long and illustrious history, Class 31s have never really been associated with Scotland so workings to the likes of Aberdeen and Inverness have been non existent or very rare indeed. To mark this historic working - and for the purpose of route learning - the majority of the Scottish legs were filmed from the front and are being released as three individual titles on DVD and Blu-ray.Part One features the entire 129 mile route from Bo'ness to Aberdeen running via the Forth and Tay Bridges.To make the occasion almost perfect, for most of the time it was brilliant sunshine, clear blue skies and sub-zero temperatures! Part Three, south from Inverness includes a severe frost and snow on the line at the highest points - all in brilliant sunshine! In addition, although this was only a light engine, a special 'thrash cam' was located in the back cab at all times, recording the loco hard at work.Filmed with the full assistance of DCR Rail. Part narration, on-screen captions and maps. Filmed in 16:9 widescreen.Also available in blu-ray format
find out more